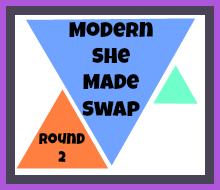 I don't know if you guys have ever participated in flickr swaps before but it is a great way to meet new quilty friends and increase your abilities! I have loved being a part of the flickr community and it has stretched me so much over the past year.
I wanted to let you guys know that Julie of
Jolie Maxtin
, and I are hosting Round 2 of the
Modern She Made Swap
. We are limiting the number of participants to 75 and are requiring previous swap experience. Julie and I were so amazed at the talent in the group during the last round, we can't wait to see what will pop up this go around!
Every round we add in a little twist. During the last round, our participants had to incorporate a circle into their project somehow, whether it be in their choice of fabric or their design choices. Well this round we are switching things up a bit, we will be incorporating triangles! We are super excited to get things started, so be on the lookout for sign-ups next week!