The past few weeks have been full of craziness for me. I have been seeing a Chiropractor for some time trying to manage some back pain but a little over two weeks ago my back had all it could take. I woke up one morning and had a hard time walking, pain was creeping into my left leg and eventually I started to have numbness clear down to my toes. I couldn't go into work and was on my back 24/7, I experienced pain during that time that was unlike anything I had ever encountered. I waited a few days to get an appointment with the neurologist and after the appointment it was clear surgery was necessary. We scheduled surgery for my herniated disc last Friday and since then I have slowly been recovering.
I'm not going to lie, this has been difficult for me mainly because I am a very independent person who doesn't like to be held back. I like to do things when I want to do them. I have had to learn to rely on others for help and not only that but to put my total trust in the Lord. My faith has been tried through this and I believe I am a better person for it! And I have learned that the Lord will always turn things out for our good!
So due to the back issues, the past few weeks I have not been able to sit at my sewing machine and I am going through withdrawals!!! I did however get some hand stitching projects ready!!! For the next few months, I won't be able to work on large projects because basting large quilts on the floor won't be an option, and lifting heavy quilts won't be an option. :( So I am reworking my to-do list and am planning on tackling all of the small projects that I have wanted to get done.
So here comes the 100 Day Hustle list.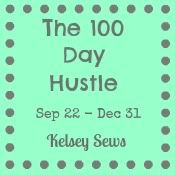 1. Binding on my ticker tape quilt
2. Binding on my chrysalis quilt
3. Cash Envelope Wallet
4. Quilt and bind my Freedom Church quilt
5. Tree Skirt Tutorial
6. Pillow Talk Swap
7. Modern She Made Swap
8. Burlap Tote
9. September - December Bee Blocks
10. Sewing Set
11. Christmas table runner
Hopefully I can get some work done in the next few months!!!